Aktuality
HORY A MESTO 2019 - My Way PARTNER festivalu !
27.-31.3.2019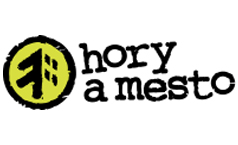 HORY A MESTO 2019 – My Way PARTNER festivalu !



Je nám potešením a poctou byť partnerom 20. ročníka filmového festivalu HORY A MESTO


Jedným z atraktívnych hostí festivalu v sekcii VODA bude jachtárka LAURA DEKKER, ktorá predstaví dokumentárny film o plavbe okolo sveta, ktorú absolvovala ako 16 ročná ! ( Maidentrip).
Film bude premietaný vo štvrtok 28/3 v Cinemax Bory o 20.00 h. Vstupenky sú k dispozícii online na Cinemax.sk, alebo v pokladniach Cinemax v Bory Mall.
Srdečne Vás pozývame !



Holandská jachtárka narodená na Novom Zélande v roku 1995 počas 7 rokov trvajúcej plavby jej rodičov ( mama je nemka, otec dán ). Laura prvých 5 rokov života strávila na mori. Po návrate do Holandska žila s otcom. Svoju prvú plachetnicu Optimist dostala k 6tim narodeninám a veľmi rýchlo sa naučila sólo plavbe. Na 8me narodeniny dostala knihu Maiden Voyage o plavbe okolo sveta jachtárky Tania Aebi . V roku 2007 podnikla sama ambiciózny 6 týždňový výlet na Wadden Sea v spoločnosti svojho psa. Leto 2008 strávila na plavne okolo Holandska na svojej novej plachetnici Hurley 700, ktorú si kúpila s pomocou pôžičky od otca.

V roku 2009 sa rozhodla počas12 denných školských prázdin podniknúť sólo výlet do Anglicka a preplaviť obávaný English Channel.Vyplávala 1. mája. Pre slabý vietor musela pristáť v anglickom Lowestoft, kde ju zadržali a požadovali jej otca , aby ju doprevádzal na plavbe domov. On však odpovedal, že sa vie vrátiť aj sama. Úrady teda mladú holanďanku umiestnili do detského domova :), kam po ňu priletel z Holandska otec a odviezol ju naspať na loď. 11. mája vyplávala z Anglicka. Laura sa v silnom vetre pomerne rýchlo vrátila do Holandska a 12 mája pristála v Rotterdame.


V roku 2019 ( 14 r.) zverejnila úmysel oboplávať zemeguľu novinárom. Na tento účasl si zadovážila 12 metrovú 2 sťažňovú plachetnicu Jeanneau Ginn Fizz ( Guppy ). Loď bola vybavená na long distance sailing a upravená na sólo navigáciu. Jej úmysel vyplávať spriečili v roku 2019 holandské úrady. Plavbu začala v auguste 2010 , spoločne s otcom preplavili loď z Holandska do Portugalska a sólo plavbu začala tajne z Gibraltaru ( britské urady by štart nepovolili kvoli veku) .
Hoci sa predpokladalo, že nebude na mori viac než 3 týždne non stop bez zastávky, nakoniec sa vyhla niektorým bodom dohodnutým na pristátie a plavila sa na niektorýych úsekoch aj 2 x po 7 týždňov nez pristátia. Jej rodina ju navštívila počas plavby 2 krát. Kedže mala namontovaný Iridiou tracking system, bolo možne ju sledovať jej plavbu. Laura písala týždenné reporty z plavby pre holandské noviny. Svoju 528 dní trvajúcu plavbu absolvovala na úspečne dokončila. V dobe vyplávania mala iba 16 rokov, čím sa zapíslal do dejín jachtingu ako najmladšia jachtárka vôbec. V roku 2013 bol zverejnený 80 min. film z plavby, ktorý nasnímala z najvačšej časti sama, Film režíroval Jillian Schlesinger a jeho názov je MAIDENTRIP.


Tu je podrobný opis trasy jej plavby:

2010–2012 Solo circumnavigation progress:



Departed Gibraltar on 21 August 2010.


Arrived at Lanzarote on 25 August.


Stayed in the Canary Islands for several weeks because of the Atlantic hurricane season.


Departed Gran Canaria on 10 November for Cape Verde.


Commenced Atlantic crossing from Cape Verde to Sint Maarten – a distance of 2,200 nautical miles (4,100 km; 2,500 mi)—on 2 December; finished when she reached Simpson Bay Lagoon on 19 December; having encountered calm weather on this leg of her journey, used the engine for two days in order to arrive on time.


Served as crew member for ten days on the tall ship Stad Amsterdam, departing from St. Maarten on 5 January 2011.


Departed Sint Maarten on 20 January; visited the islands of Îles des Saintes</>, Dominica, Bonaire and San Blas Islands, all located in the Caribbean.


Flew home on 27 February; stayed to 10 March to speak at a boat show and other places, now a figure of considerable media attention in the Netherlands.


Completed the passage of the Panama Canal on 11 April 2011; visited Pearl Islands thereafter.


Crossed the Equator on the evening of 25 April; reached the Galápagos Islands the following day.


Departed the Galápagos Islands on 7 May and arrived at Hiva Oa, Marquesas Islands on 25 May, having sailed about 2,960 nautical miles (5,480 km; 3,410 mi) in 18 days, the longest leg so far; encountered open sea only, with no islands near the route.


Sailed from Marquesas Islands to Tahiti between 1 and 8 June, a journey of 770 nautical miles (1,430 km; 890 mi); demanding leg of the journey with shifting winds, many reefs, ships, and little sleep.


Visited Moorea and Bora Bora, and then sailed the 1,400 nautical miles (2,600 km; 1,600 mi) journey to Vava'u, Tonga in 12 days, where she arrived 8 July.


Arrived 17 July 2011 at Suva, Fiji, having sailed for four days, and on 30 July at Port Vila, Vanuatu after having sailed for three days.


Sailed from Vanuatu on 8 August, heading for Darwin, Australia; arrived in Darwin on 25 August after one of the toughest legs of her journey, which included passage through Torres Strait, filled with reefs, islands and large ships; father visited her in Darwin, their first meeting since she had visited the Netherlands in March 2011; together, undertook a major overhaul of the boat; celebrated Dekker's 16th birthday.


Departed Darwin on 25 September, heading west; published information about this leg of her journey in her blog following about two weeks delay, because of security concerns regarding Indian Ocean pirates.


Sailed to Durban, South Africa, arriving 12 November, after 47 days at sea non-stop; reported wind varying from dead calm to hard wind that often shifted direction; sometimes encountered rough waves (distance Darwin–Durban is 5,540 nautical miles (10,260 km; 6,380 mi)).


Arrived at Port Elizabeth, South Africa, on 18 November.


Passed Cape Agulhas, South Africa, on 26 November, southernmost point on the African continent, and southernmost point of her journey; sailed thereafter a northerly course for the first time on her journey from the Netherlands.


Passed the Cape of Good Hope on 27 November in rough weather; reached Cape Town the same day; father and journalists and the boats of the Volvo Ocean Race met her there.


Sailed from Cape Town on 12 December, heading northwest.


Reached the longitude of her unofficial starting point in the Netherlands on 20 December; had already crossed all longitudes in the course of her circumnavigation; faced another 4,800 nautical miles (8,900 km; 5,500 mi) for her official completion.


Arrived in Simpson Bay on Sint Maarten on 21 January 2012 at approximately 3 pm local time after a non-stop journey of 5,600 nautical miles (10,400 km; 6,400 mi) from Cape Town, thus completing her full circumnavigation of the world, at the age of 16 years, 123 days.


The trip took 518 days or 74 weeks or 1 year, 5 months.



Ukážka z filmu: Ukážka z filmu: https://youtu.be/8PCbn1T2Tfw